FIRST ANNUAL
La Viness Short Story Writing Contest
EXTENDED DEADLINE! SEE BELOW!


.
This will be an annual contest with a different theme each year. We will have a minimum of three judges, and up to nine awards will be given. Money awards will be in US dollars. Enter as many short stories as you like. More entries means more chances to win, and the award pot grows fatter with each entry, so make sure you tell all your friends.
.
SUBJECT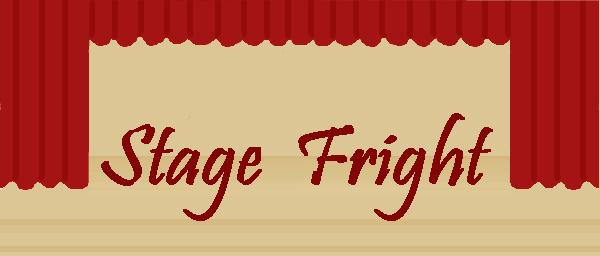 Stage fright does not have to be the main theme,
but it should be an important part of the story.
Fiction or Nonfiction
Any subject / Any genre
(No erotica, gore, poetry, or songs.)
2500 word limit, not including title
Must be a complete story.
All entries must be UNPUBLISHED* at time of submission.
.
ENTRY FEE
$5.00 USD per story entry.**
Multiple entries allowed.
.
CONTEST PRIZES
1st, 2nd, and 3rd Place certificates with prize money.
Up to three Judge's Choice certificates.
Up to three Honorable Mention certificates.
Awarded author names and story titles will be listed
on this contest page until the 2020 contest is posted.
First Place will also be listed on this web page.
For more information about prizes, click here.
.
EXTENDED DEADLINE
Postmarked on or before October 22, 2019.
.
FORMATTING
Font: size 12, easy to read, use curly quotes.
Double-spaced.
One inch margins.
No special "front page only" formatting is required.
Top right of every page: Title / page #
EXAMPLE: The Last Tadpole / 1
Give your story a little extra polish with this check list:
Story Checks
.
ANONYMOUS SUBMISSION RULES
No identifying author information
allowed on the story pages or on
the inner or outer envelopes.
.
OUTER ENVELOPE CONTENTS
1. Your manuscript
2. A blank, sealed business-size (#10) envelope.
.
INNER ENVELOPE CONTENTS
Inside the blank, sealed business-size (#10) envelope, enclose:
1. check or money order for your entry fee of
five (5) US dollars per story**
2. your cover sheet(s) with identifying information,
so we can contact you, if you are a winner.
3. For writers under age 18: a signed permission letter
from your parent or legal guardian stating it is okay
to publicly share your name and story title,
if you win an award.
Your typed cover sheet(s) should include:
Author Name
Mailing Address
City, State Zip Code
Phone
Email Address
Story Title
Fiction / Nonfiction
# of words in story
First full line of story
.
SEND TO
Use the following address for both TO and FROM,
as shown below.
Renee' La Viness
P.O. Box 724
Broken Arrow, OK 74013-0724
(EXAMPLE)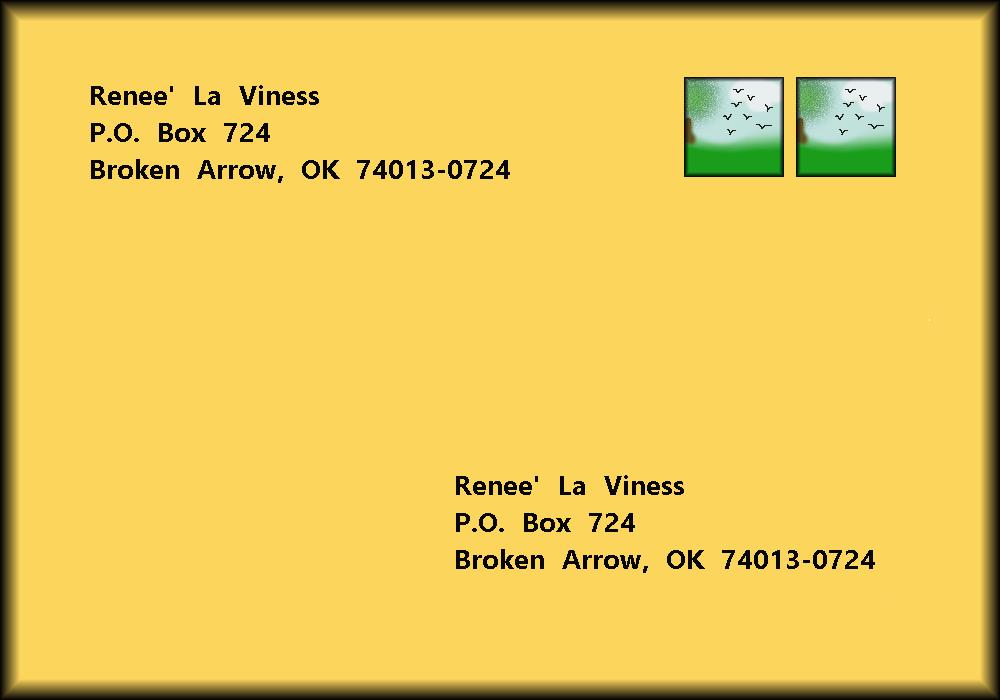 . AWARDS
Awards will be announced on this page,
and prizes/certificates will be mailed
on or before December 5th, 2019.
For more information about prizes, click here.
.
Questions about the short story contest?
Email Renee' at critique@jespiddlin.com
DO NOT mention details about your story or title.
.
* UNPUBLISHED = Not published in a book, ebook, audio, or other format that is publicly shared, including online. (This does not include items shared for critique in private writing groups. In fact, we encourage critique before submission.)
** ENTRY FEES will be cashed in late November, after winners are determined. If your check or money order bounces, your entry/entries will be voided.


.